A Shower for Every Space
Ganser Company's superior quality, cost-effective showers are designed with every home and business in mind. From complete customization to fast installation, our shower remodel solutions are affordable and convenient for every need and space. No matter what you're looking for, we have the accessories and solutions to make your renovation a reality. With our innovative designs and low-maintenance, durable materials, you can trust that a new shower with Gasner Company is the best investment for your home.
Stunning, Space-Saving Showers for Every Home
As a premier bathroom remodeling company, Ganser Company's wide range of replacement tubs offer superior quality and complete customization. With our new bathtubs, you can find the perfect solution to fit any home, all at an affordable price. Best of all, with each new bathtub replacement, you'll also enjoy the following feature benefits.
As a trusted name in new showers and replacement showers, Ganser Company is committed to providing the highest quality products at affordable, competitive prices. We've been renovating bathroom spaces with beautiful, space and cost efficient showers. As your trusted shower company, we provide the following benefits with each of our products:
Easy Maintenance: Non-porous, naturally mold and mildew resistant surfaces make our showers easy to clean.
Style: With multiple customizable designs, colors, and patterns, you're sure to find the perfect fit for your home.
Durability: Our acrylic won't scratch, chip, stain, or fade, making our showers the perfect investment in your home's future.
Fast Installation: With certified, factory-trained installers and units fabricated to fit within your pre-existing space, our installations can be completed in as little as a single day.
Lifetime Warranty: We're confident that our products are the best on the market, which is why we stand behind every single one with a lifetime guarantee.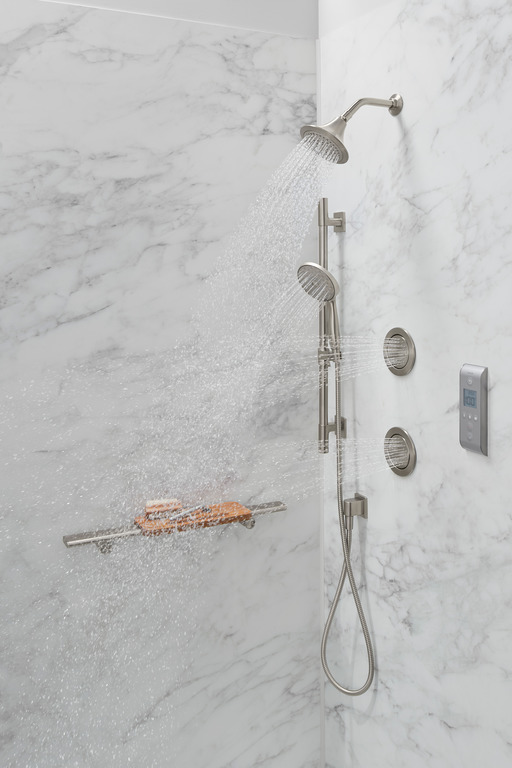 Ganser Has The Answerr
Your bathroom deserves the most when it comes to adding a new or replacement shower. Choose the superior quality offered by Ganser Company and relax knowing your shower is in good hands. Contact our friendly team members to learn more about our service and product options, or fill out our online form to request a free estimate today!
Contact us to get a free quote for your project!
"Everyone we worked with were very courteous and friendly. They answered all questions we had. We have had several people stop and tell us how good the house looks! They love the French doors when people stop in to visit. You all did a wonderful job! Nicely done!!!"
– Duane and Kathy J.
"We were very pleased with everyone involved with the Ganser Company, from the office personnel to the estimator and the actual work crew. They were considerate about protecting our shrubs, deck, and driveway. Marc explained step by step, the procedure of replacing the roof. The crew picked up all debris and nails following the job. The roof is beautiful and we'd recommend them to anyone needing roof repair. We already told our neighbor whose roof you're currently doing. Thanks for a job well done!"
– Carol and John J.
"We contacted Marc Ganser & Ganser Company for a badly needed remodel of our small, 1970's master bath. We have been through several renovations in the past and by far, Ganser provided the most professional, timely and least stressful renovation of all. The ENTIRE team was professional, on time and diligent about all aspects of the project. We had a new, amazing master bath in 5 days, from start to finish! We absolutely love it! Thank you, Ganser for providing the service we all want, but rarely receive these days."
-Susan Sutton
"Very happy with the product and the workmanship. The crew was very professional. At the end of the day the only sign that they had been there at all was the work they had done. There was no tools or trash lying around. The work was high quality. Any concerns we had, however small, were addressed promptly and without fuss. We would happily do business with them again!"