Tub to Shower Conversions
Although bathtubs can be a great spot to unwind and relax, they can also be a big waste of space for people who are busy or uninterested in spending their time on a long soak. If you have a tub that sits empty, why not turn that space into a well-designed shower system that everyone can enjoy? In as little as one day, Ganser Company can swap your unused bathtub with a customized shower of your choosing. For quick and cost-effective tub-to-shower conversions, we're the leading provider!
Experience The New LuxStone® Collection From Kohler®
Step into a shower enclosure that was designed for you and your routine. From the shower walls that reflect your style, to the showerhead that delivers an indulgent drench, to the digital shower system that activates your unique preferences at the touch of a button, your new custom walk-in shower design is ready and waiting.
Enjoy Personalized Style and Service With Your Tub-to-Shower Conversion
As the greater Madison area's one-stop-shop for bath conversions, we at Ganser Company are proud to offer everything you could need for a beautiful, fully-featured shower system. By working with us for your tub-to-shower conversion, you'll be able to design each and every aspect of your new shower, including your:
Shower Base: Whether for a grandmaster bath or a small corner shower, the textured, low-profile bases lay the perfect foundation.
Wall Surrounds: From clean and classic to sleek and modern, the selection of colors and patterns adds an air of luxury to your walk-in shower.
Accessories: Finish your bathtub-to-shower conversion with convenient accessories like towel bars, safety grab bars, soap caddies, and more!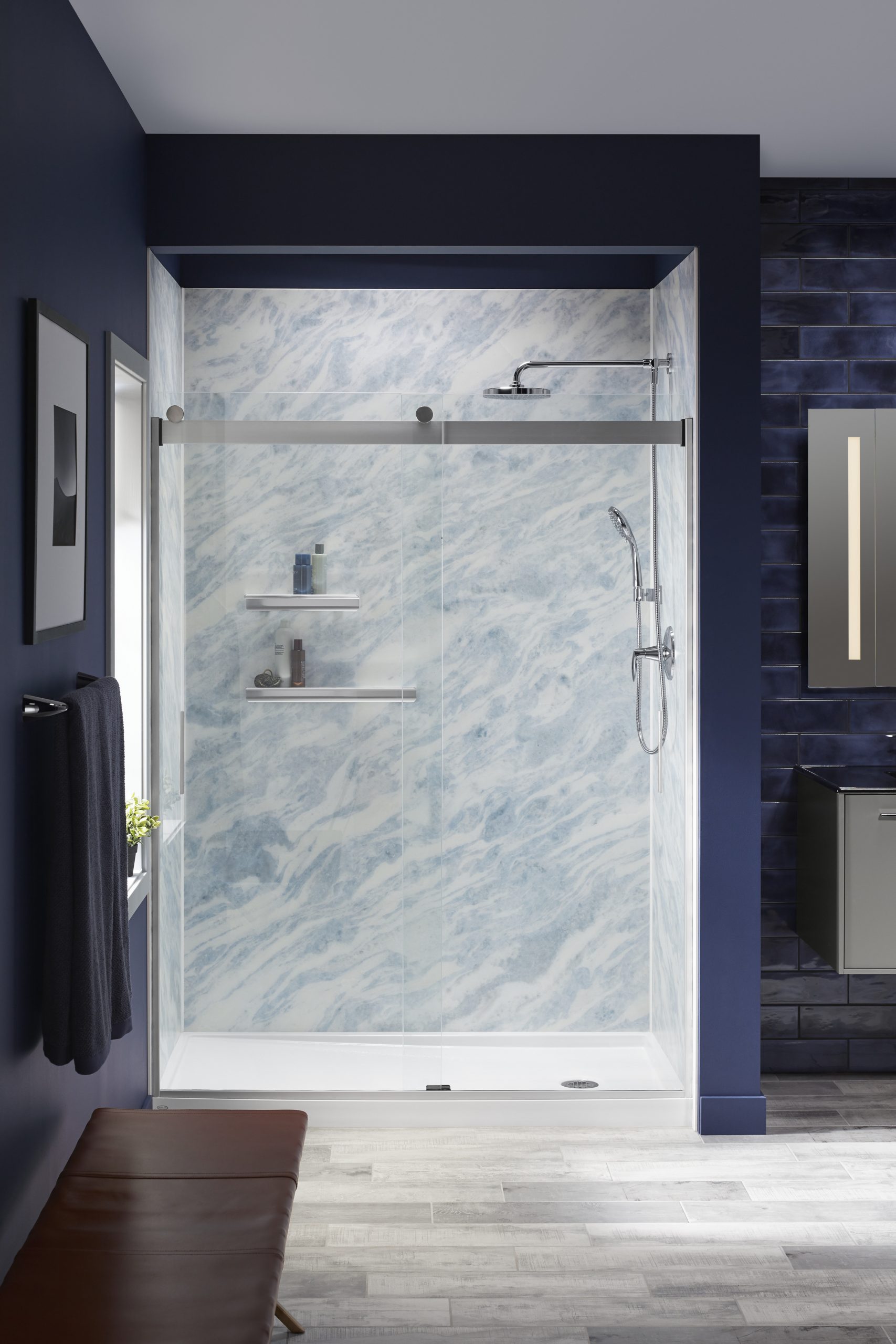 Ganser Has The Answer
From floor to ceiling, we'll meet your needs with our range of tailor-made replacement tub and shower products—all personalized to your style and custom-fitted by our factory-trained teams. With KOHLER® Luxstone®  limited lifetime warranty and range of no-money-down, zero-interest financing options, Ganser Company offers a bathroom remodel made easy!
Contact us to get a free quote for your project!
"Everyone we worked with were very courteous and friendly. They answered all questions we had. We have had several people stop and tell us how good the house looks! They love the French doors when people stop in to visit. You all did a wonderful job! Nicely done!!!"
– Duane and Kathy J.
"We were very pleased with everyone involved with the Ganser Company, from the office personnel to the estimator and the actual work crew. They were considerate about protecting our shrubs, deck, and driveway. Marc explained step by step, the procedure of replacing the roof. The crew picked up all debris and nails following the job. The roof is beautiful and we'd recommend them to anyone needing roof repair. We already told our neighbor whose roof you're currently doing. Thanks for a job well done!"
– Carol and John J.
"Marc Ganser was awesome to work with. Explained what was to be done so you could understand. The 2 gentleman who did the work were great also. Did the work efficiently and with no mess. The lead man even went to get different shingles to match my shingles even better. Will call back when we redo the bathroom. Or when a new roof is needed. Thanks to all the people that we dealt with at the Ganser Co."
-Scott Mac Naughton 
"I hired the Ganser Company to do a bathroom remodel for my parents. This included the removal of the old tub, complete demo and then installation of a walk-in shower with bench, safety handrails and removable shower head.
The job was completed ahead of schedule, at the quoted price and it looks better than we ever imagined. Jason and Greg did a fantastic job of explaining the options, the pros, and cons of the various solutions and then executing our plan.
We could not be happier! The quality of the work is off the charts. Everything was top notch from start to finish. Thank you Ganser Company!"
-Dane Fjelstad