Entry Door Replacement and Installation
Is your front door a little drafty? Do you want to make your home's entrance more enticing or exciting? Ganser has the answer! Our experienced installation professionals install ProVia doors, which are Energy Star® certified. That means they are more energy efficient than traditional wood counterparts. ProVia doors have up to four times more insulation than wood doors. They feature realistic graining details that give the appearance of real wood. ProVia doors are engineered to meet the industry's highest security rating for forced entry. They will not dent, ding, rust, split, crack, or rot.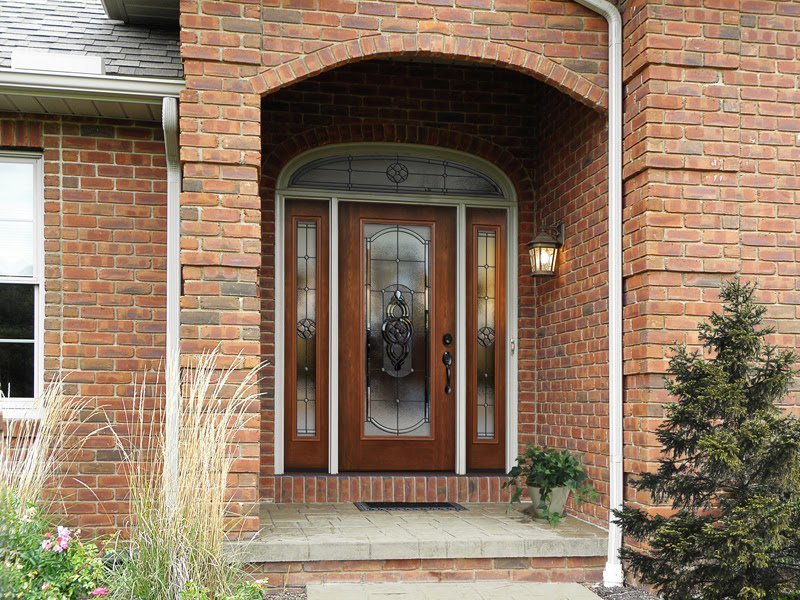 ProVia Entry Doors
ProVia offers four lines of fiberglass and steel professional-class entry doors that meet the highest standards for beauty, durability, security and energy efficiency, available in custom sizes and finishes. Choosing a custom entry door with ProVia offers much more than design personalization, it provides the confidence that the door you are installing will be a significant upgrade from the one you are replacing, with better comfort (no drafts), more energy efficiency, more security, better performance and longer life expectancy.
ProVia's ENERGY STAR® certified doors and windows are independently tested and certified to meet strict energy-efficiency standards set by the Environmental Protection Agency (EPA). The EPA has awarded ProVia ten times, four for Partner of the Year, four for Partner of the Year- Sustained Excellence, and once for Excellence in Promotion. Most recently, ProVia was awarded ENERGY STAR® Partner of the Year- Sustained Excellence for Door and Window Manufacturing.
ProVia has Impact Shield Products that are designed to protect your family and home against the harshest storms and help deter burglaries. Impact Shield products feature laminated glass and can withstand repeated blows from wind-borne debris or unwanted intruders.
Ganser Has The Answer
If you are in need of new entry door installation, Ganser has the answer! Stop by our showroom to take a look at some of the entry doors we install every day. Our dedicated team won't rest until we have the answer to your home improvement needs.
Infinity Fiberglass Windows from Marvin
Contact us to get a free quote for your project!
"Everyone we worked with were very courteous and friendly. They answered all questions we had. We have had several people stop and tell us how good the house looks! They love the French doors when people stop in to visit. You all did a wonderful job! Nicely done!!!"
– Duane and Kathy J.
"We were very pleased with everyone involved with the Ganser Company, from the office personnel to the estimator and the actual work crew. They were considerate about protecting our shrubs, deck, and driveway. Marc explained step by step, the procedure of replacing the roof. The crew picked up all debris and nails following the job. The roof is beautiful and we'd recommend them to anyone needing roof repair. We already told our neighbor whose roof you're currently doing. Thanks for a job well done!"
– Carol and John J.
"We had a great experience working with Ganser to replace our roof! Mark came out to do an estimate and was extremely polite and friendly. We filed an insurance claim for hail damage. Mark was very honest in what we needed and didn't need done. He actually went to the insurance company with a lot of stuff that the insurance adjuster missed! The roof was done in a day and done well. We were so happy with Ganser I referred my grandparents and they picked Ganser to do their roof as well. We will defiantly choose Ganser if we need work done on our house in the future!"
-Shane Ryan
"Ganser is a Company you can trust with quality products and attention to detail that match and conform perfectly with the rest of your home. They remodeled an addition to my home with skylights and it looks absolutely awesome! The entire staff is very pleasant and the project was completed exactly on schedule and as promised."
-Donna Rossi