Energy Efficient Window & Door Replacement
Depending on the age and style of your home, Infinity offers two window replacement methods. Ganser Company will help you determine the best solution for your home, including addressing any concerns about water or structural damage. Both methods are designed for maximum efficiency and minimal disruption to your home.
WINDOW INSTALLATION OPTIONS
Full-frame replacement 
If you have concerns about water or structural damage, full-frame replacement is the appropriate installation method. During a full-frame installation project, the entire window and trim is removed and replaced. Full-Frame replacement is also used for new window styles or enlarging your existing opening for a bigger view.
Insert replacement
Insert replacement is an efficient approach if your existing window frames are in good condition and you only need to replace your sash and hardware. Our insert solution installs directly into your existing window frame with no disruption to existing trim, interior walls or exterior siding
Door Replacement
At the Ganser Company, our experts are able to install doors that are made of fiberglass. We can add colors that match the tones of the house's siding, and the doors are equipped with seals that prevent cold air from entering the residence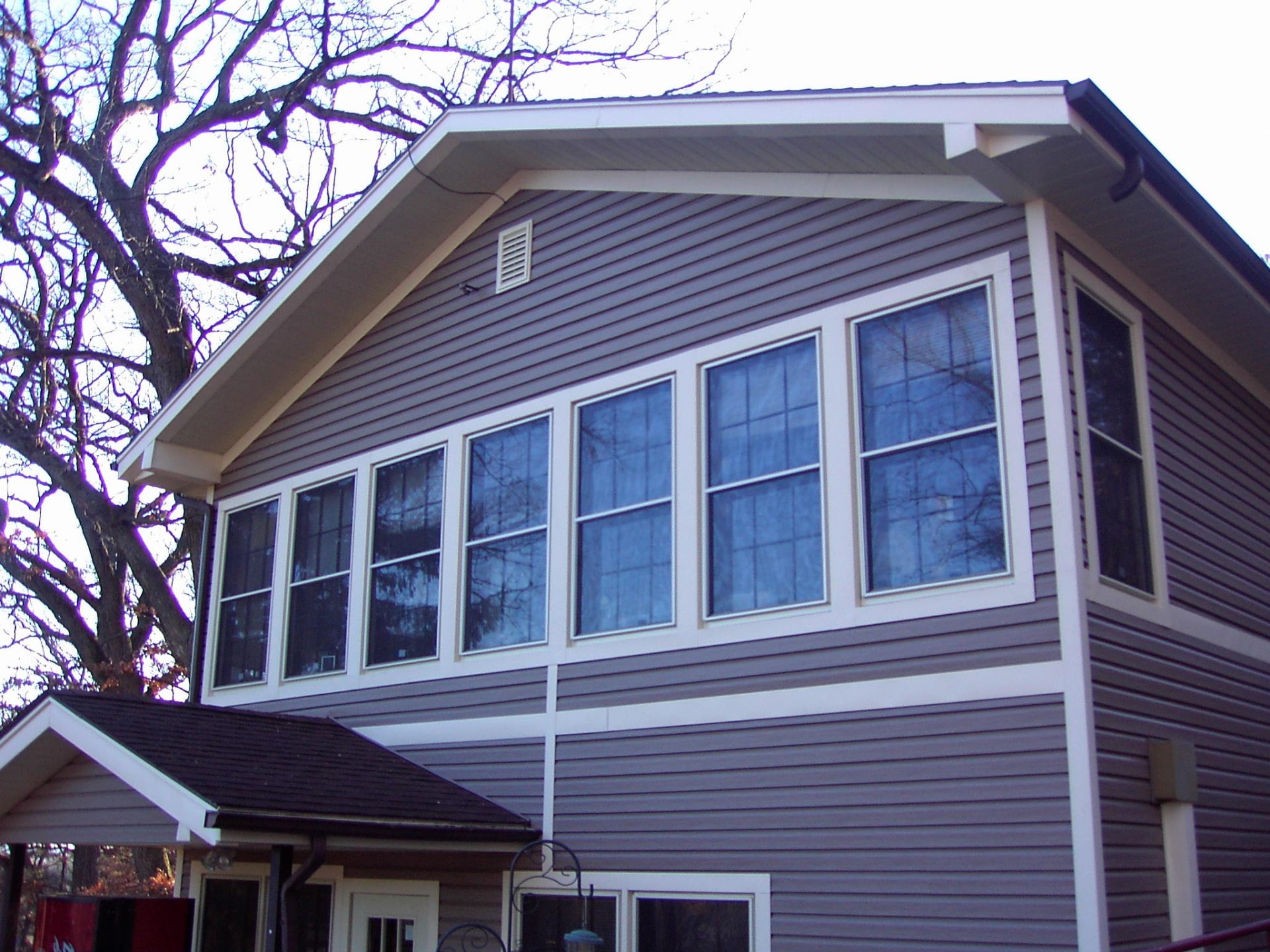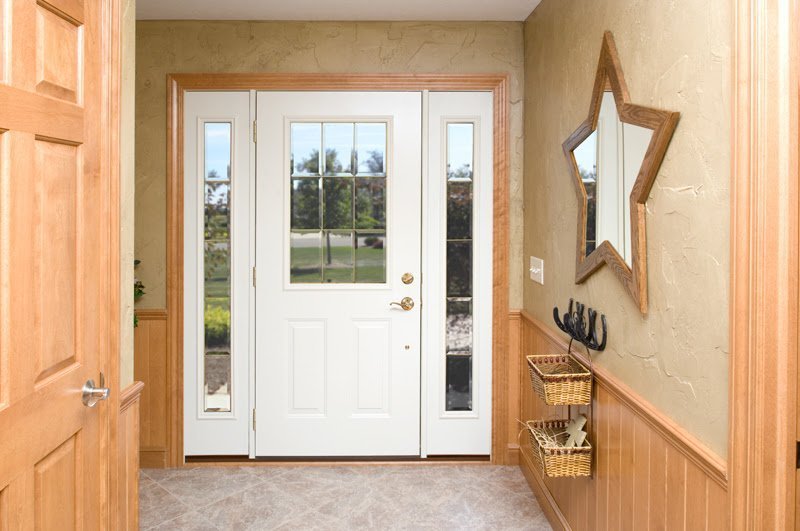 The Benefits of Fiberglass
Numerous studies have shown that fiberglass is able to withstand more pressure than vinyl or wood. Ultrex® Fiberglass is a pultruded fiberglass material that is strong and durable. Ultrex® Fiberglass is 8x stronger than vinyl and 3.5x stronger than wood/vinyl composites. It is virtually maintenance-free and won't rot, warp, dent, or fade.
Durable Designs
Ganser Company sells doors that consist of fiberglass or steel, with the fiberglass having the same appearance as high-quality wood. The doors we sell never become cracked or dented. With durable rubber seals, water will be prevented from seeping underneath the door.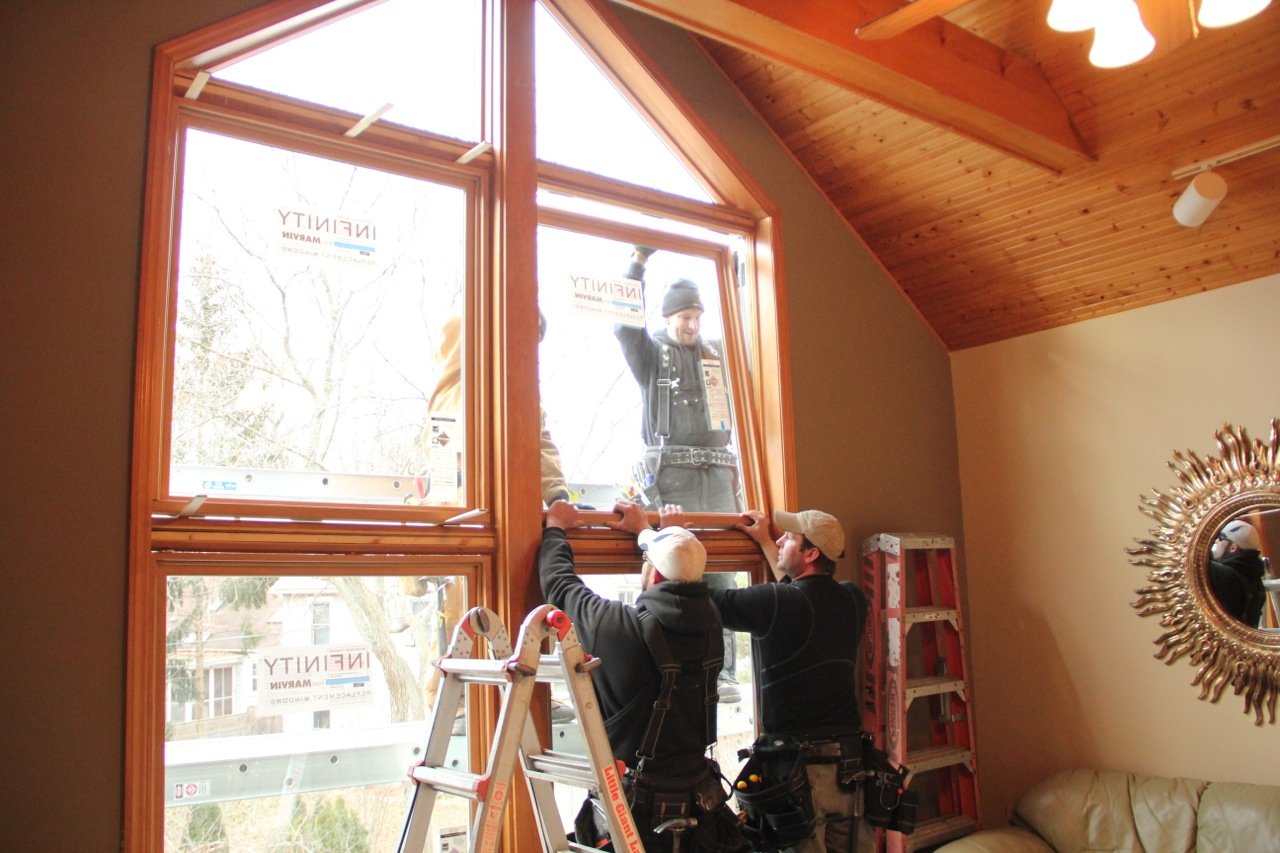 Ganser Has The Answer
If you are in need of new window & door installation, Ganser has the answer! Stop by our showroom to take a look at some of the windows & doors we install every day. Our dedicated team won't rest until we have the answer to your home improvement needs.
Infinity Fiberglass Windows from Marvin
Contact us to get a free quote for your project!
"Everyone we worked with were very courteous and friendly. They answered all questions we had. We have had several people stop and tell us how good the house looks! They love the French doors when people stop in to visit. You all did a wonderful job! Nicely done!!!"
– Duane and Kathy J.
"We were very pleased with everyone involved with the Ganser Company, from the office personnel to the estimator and the actual work crew. They were considerate about protecting our shrubs, deck, and driveway. Marc explained step by step, the procedure of replacing the roof. The crew picked up all debris and nails following the job. The roof is beautiful and we'd recommend them to anyone needing roof repair. We already told our neighbor whose roof you're currently doing. Thanks for a job well done!"
– Carol and John J.
"I've had Ganser perform two jobs on our home, one a roof repair and one a door replacement (exterior + screen). Both times I was super happy with the results! I worked with Mark who is absolutely wonderful. He came out before both jobs to review & quote us, was very honest with expectations, and provided great product guidance without sales pressure. He also came out again after both jobs to make sure we were satisfied! Both of the work teams who came out were excellent too. They checked in with me every time they had to make an adjustment to the plans and did a wonderful job. They were also super neat and cleaned up the area way more than I expected given my experience with other contractors. With the roof I can hardly tell where the repairs were, it looks amazing! The door also looks fantastic and we are super happy with it. We also had Mark out for a quote on a bathroom remodel, and although we didn't move forward at that time, we will absolutely be doing so in the future. His suggestions were excellent and he was able to point to personal experience with some of the finishes he recommended. I highly recommend Ganser for replacement and remodeling."
– Susan Schneck
"I recently had Ganser company install a new walk-in shower and toilet and was very impressed with everything from start to finish from my initial meeting with Jason Hawkins my consultant (fabulous to work with!!!) to the install team (Marc)everything went as expected and I absolutely love the finished product and would highly recommend them for any remodeling needs of any kind had a great experience."
– Clarice Gensch
"We had a water issue with the siding and windows on the back of our house and needed a new back door installed. After meeting with 5 different contractors we decided to go with Ganser. Jason Hawkins came to our house for the quote and was part of the reason…he was very friendly, knowledgeable and understanding of what our expectations were and was available from start to finish to answer any questions or concerns we had throughout the process. He had a great crew that did the work too. Highly recommend Ganser!"
-Tony Smith
"Very happy with the product and the workmanship. The crew was very professional. At the end of the day the only sign that they had been there at all was the work they had done. There was no tools or trash lying around. The work was high quality. Any concerns we had, however small, were addressed promptly and without fuss. We would happily do business with them again!"
-Vincente Cenuta
"Ganser Company has assisted us with several improvement projects on our historic home, which was built in 1903 – 1904.
The first project involved the restoration and rebuilding of 2 rear exterior porches. The work was complex and challenging due to the need to blend modern building with existing architectural details original to the home. Ganser Company employees gave an extraordinary effort in finding solutions to the unique situations presented, and the result was exceptional. Currently Ganser Company is replacing original single pane windows on our home with durable, energy efficient Marvin Infinity ones. The project is being accomplished in several phases due to the size and number of windows. Ganser Company has been excellent to work with. We appreciate the quality of workmanship, the reliability and professionalism at all levels of the company, and the consideration and respect they have given us. We highly recommend Ganser Company!"
-John Peterson
"I just used Ganser for a large exterior project on our home that included many doors, windows, new roof over hangs, and exterior repairs on a four story home on a steep lot. Many other companies would not even bid the job due to its complexities. Ganser, however, did bid the job happily and was professional from day one. I appreciated all communication was upfront and clear. The project was finished in a timely manner and at the quoted price. I was constantly being updated with the start dates and progress of the project. Everything turned out perfectly. I would highly recommend them and plan on using them for any future projects. I have worked with many contractors and by far this was the easiest process I have been through."
-Tracy Koziol
"We had 11 windows and 4 doors replaced – what a beautiful difference the new windows and doors have made. We couldn't be happier with the quality of the products, the invaluable help, the professionalism of all the people involved in our project (beginning with our first consultation with Marc Ganser, to the workers, to the office personnel). We unreservedly recommend the Ganser Company – you will be glad you chose this business!! We will be using their services again in the near future with more products to improve our home. Thank you Ganser Company!!"
-Jill Dumphy
"Ganser is a great customer experience, perhaps the best I've had. They are honest, thorough, timely, efficient, and deliver very high quality products. I highly recommend them."
-Gardner Peckham