Your Entrance To The Great Outdoors!
Infinity by Marvin Patio doors are the ideal solution for replacement projects where low-maintenance and durability matter above all else. Made with Ultrex® fiberglass, these doors provide a winning combination of architectural detail and classic aesthetics with performance you can rely on. From traditional to contemporary, Infinity by Marvin replacement patio doors always deliver irreplaceable value. With sliding and swinging patio options, as well as a breathtaking range of expansive scenic doors, we offer elegant designs to blur the barrier between inside and out.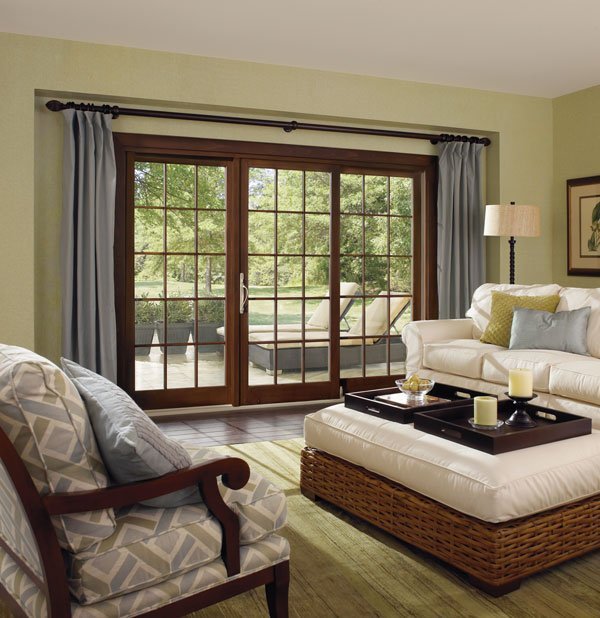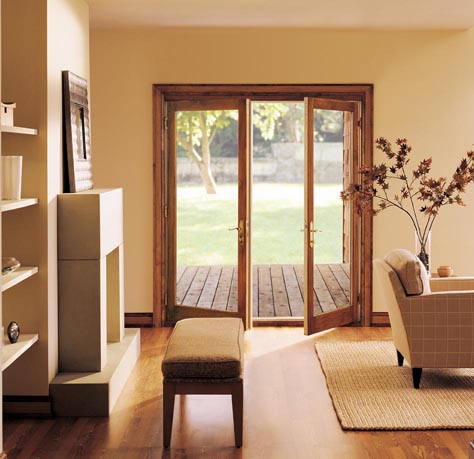 Patio Door Products
Infinity by Marvin Patio Doors
Infinity by Marvin Patio Doors come in many different styles such as Lift and Slide, Sliding, Sliding French, Swinging French, Arch Top French, and Bi-Fold. Marvin builds energy efficiency into every door they make. Virtually all Marvin products meet or exceed Energy Star® guidelines for energy efficiency. To learn more about the right energy efficient patio door options available, give us Ganser Company a call today!
Ganser Has The Answer
If you are in need of new patio door installation, Ganser has the answer! Stop by our showroom to take a look at some of the patio doors we install every day. Our dedicated team won't rest until we have the answer to your home improvement needs.
Infinity Fiberglass Windows from Marvin
Contact us to get a free quote for your project!
"We had them installed during the winter during one of the worst weeks of the winter. 6 inches of snow on Monday, and record-breaking cold the rest of the week. They flew through the windows while it was snowing. They brought a big crew so some could stay inside and some outside so they wouldn't make a mess in our house. We are very happy with the service and accommodations they made to get the windows installed."
-Ric Miller
"Great company to work with from start to finish! Jason Hawkins was our consultant and his professionalism was unmatched, he gave us all the info to make us comfortable and did everything he told us he was going to!"
-Pam Powell
"We hired Ganser to replace our roof and spruce up our front porch. The project could not have turned out better. Marc from Ganser came to our house to help us make a plan that would be in our budget. Marc majored in art history in college, and it shows. His ideas and recommendations are based in history, so he has a wonderful sense of how to bridge the present to the past. Marc listens to people's ideas and brings other solid ideas to the table.
Once we got started, I was totally impressed with the roofing crew. They were polite, courteous, efficient, and their work was top notch. After the roof, the carpenters came. They were like magicians. The quality was 10/10. I could not believe the amount of quality work that was done in just a few days. With both the roofers and carpenters, the worksite was left as clean as could be during and upon completion of the project.
The whole project stayed on budget and on time. I wasn't expecting to have this reaction after the project, but I literally have fallen more in love with my house. When I am walking my dog and rounding the corner to my house, I can't wait to see it. It a weird feeling to suddenly be significantly more in love with something that I already loved.
The materials that they use are state of the art. They have higher cost and lower cost options. Marc visits the project after the project is done to make sure that everything went according to plan. I would definitely suggest to anyone to give Ganser Company a chance when planning a project."
-Josh Palmer
"We needed a large front window replaced on our home. We had scheduled two companies to come out and give us quotes on the same morning. The first company was a well know and advertised place. They were so pushy, I was almost in tears by the time I asked them to leave. Then Marc Ganser showed up.
I was expecting another awful experience but he was our knight in shining armor! He was friendly, professional and very helpful. I never once felt that we were being pushed into anything. He helped us find something that worked within our budget and was of high quality.
Our install person was also super friendly and efficient. Was in and out in a couple of hours. Marc called a couple of days later to see how things were going, answer any questions and to discuss the warranty.
We plan on being in our house for many years to come. Any other future upgrades or remodels, we will be calling Ganser. I cannot recommend them enough! Thank you Ganser Company!"
-Caitlin Rymer
"We couldn't be more pleased with our new siding and roof by the Ganser Company. John was amazing to work with and took care of us through the entire process. He worked with our insurance, gave us all our options, and met repeatedly with us while we made our final decisions. He went far beyond any of our expectations and seemed genuinely concerned for us. Jesus and the building team were always respectful and informative and did beautiful work. We highly recommend the Ganser Company, and John in particular!"
-Sandra Peterson
"Very good company to deal with. Honest, straightforward, no gimmicks or false promises. There with you until the job is done. It's rare to find quality these days. They take pride in what they do, and doing a good job."
-Greg Cornelson
"Amazing company. Hardworking folks, bend over backwards to do good job, and give back to the community more than I have ever witnessed any company giving back. After 4 generations, it's pretty obvious they have serious staying power. I would recommend them in a heartbeat."
-Beth Burgess Cornelson