Velux, Over 75 Years of Craftsmanship
For more than 75 years the VELUX Group has created better living environments by bringing daylight and fresh air into people's homes all over the world. Our products help create bright, healthy, energy-efficient places in which to live, work, learn and play.
The VELUX Group has manufacturing and sales operations in more than 40 countries, with an extensive distribution network. Our products include roof windows and modular skylights, as well as a range of decorative elements, blinds, roller shutters, installation solutions and remote controls.
Ganser Company is proud to partner with amazing companies that will help bring down your home energy cost and improve your overall home health.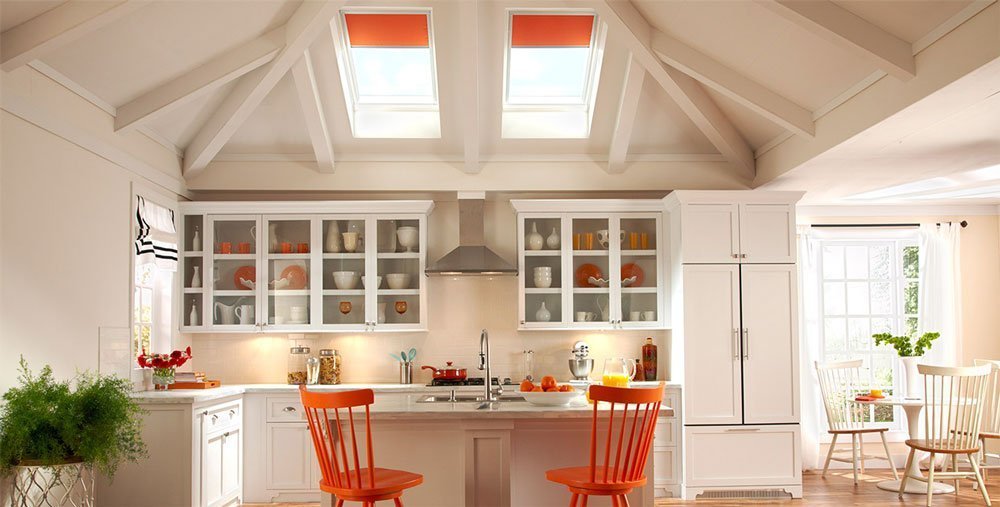 Velux Products
Velux Skylights
Velux Skylights offer a complete line of skylight products and complementary accessories. Ganser Company lets you choose from a wide variety of skylight models to find the best skylight for your home!
Velux Sun Tunnels Skylights
Velux Sun Tunnel Skylights bypass all obstacles, using an adaptable reflecting tube to direct daylight into every area of your home. The effect is brighter and more comfortable living areas. Check out the Sun Tunnel Skylights that Ganser has to offer.
Fresh Air Skylights
Skylights Installation
Adding a skylight to your roof can bring more light and energy into any room! Natural light is a fundamental aspect to the quality of our lives and living environment. Light, with its many moods and variations, can help make a house a home. Not only does natural light create an atmosphere, it can positively impact the way we feel about a living space! Ganser Company has a team of experienced installers and technicians who will assist you with your new skylight installation.
Solar Powered
The Velux Solar Powered "Fresh Air" Skylights feature a solar panel that captures available daylight and uses it to recharge a highly efficient, concealed battery powered operator and control system. This operator is the power source that opens and closes the skylight, negating the need for electrical wiring during installation.
Electric
The Velux Electric "Fresh Air" Skylight is the perfect daylight solution for overhead applications. It allows for abundant natural light, and with the touch of a button, opens to let in fresh air.
Manual
Designed for both deck and curb mount installations, the Velux Manual "Fresh Air" Skylight enables any home to embrace the best of what nature has to offer. Opening for maximum fresh air, this venting skylight contributes to a home's proper moisture balance and comfort level by allowing stale, humid air to be released.
Fixed
Fixed skylights, designed for deck mounted installations, are perfect for visually expanding areas such as hallways, stairwells, and other closed-in, dark spaces that can be transformed with light and sky views. They provide an economical choice in creating a spacious home that is filled with natural light.
Ganser Has The Answer
If you're looking to add a new Skylight or replace your old one, Ganser has the answer! Check out some of the other Skylight projects we have worked on. Our dedicated team won't rest until we have the answer to your home improvement needs.
Contact us to get a free quote for your project!
"Everyone we worked with were very courteous and friendly. They answered all questions we had. We have had several people stop and tell us how good the house looks! They love the French doors when people stop in to visit. You all did a wonderful job! Nicely done!!!"
– Duane and Kathy J.
"We were very pleased with everyone involved with the Ganser Company, from the office personnel to the estimator and the actual work crew. They were considerate about protecting our shrubs, deck, and driveway. Marc explained step by step, the procedure of replacing the roof. The crew picked up all debris and nails following the job. The roof is beautiful and we'd recommend them to anyone needing roof repair. We already told our neighbor whose roof you're currently doing. Thanks for a job well done!"
– Carol and John J.
"I had full window replacement and my front entry door replaced by Ganser. They did a great job. The job started when they had predicted and was done quickly and on budget! The work is beautiful. If I wasn't 100% satisfied, they kept working on it until I was. All the staff were great to work with."
-Barb Gilligan
"Exceptional work! Overall, a very professional and skilled team. Thank you for the practical/design suggestions and for accommodating my schedule. I did not feel pressured to buy, nor was I rushed to make a decision."
-Kim P